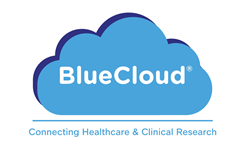 CEDAR PARK, TEXAS (PRWEB) FEBRUARY 23, 2021
BlueCloud® by HealthCarePoint.com, a Public Benefit Corporation, officially announced today that they've received a patent for its GDPRWallet® Trust and Verify application. The patent paves the way for BlueCloud's global shareable platform, which empowers healthcare professionals to own their Personal Identifiable Information (PII), to enable third parties to verify the authenticity of the information and share that information with global organizations for business and compliance purposes. Today, more than 1.8 million healthcare and research professionals from thousands of healthcare and clinical research organizations use personal GDPRWallets®.
"As a Public Benefit Corporation, BlueCloud has a social responsibility to modernize healthcare and clinical research and therefore, will be donating its patented GDPRWallet trust and verified application to all of its current and future healthcare and clinical research members." – stated Al O. Pacino, President BlueCloud. "This innovation resolves the challenges that payers and sponsors face in legally collecting PII required to minimize redundancies, fraud, waste and abuse, improve human subject protection, patient safety and data variance in clinical trials."
The BlueCloud GDPRWallet is a personal HR digital account containing PII and provides personal opt-in access for healthcare professionals such as physicians, nurses, first responders and clinical researchers and other healthcare professionals.
BlueCloud GDPRWallet® has the potential to transform healthcare personal information management and access by providing users with the primary source and single location for managing and sharing their credentials and other important Personal Identifiable Information (PII) as required by US privacy and Global General Data Protection (GDPR).
This personalized technology enables individuals and healthcare organizations to share their "Personal Digital GDPRWallet", which contains the details of their Personal Identifiable Information (PII), along with their centralized professional competencies, experience, training and certification records. This opens up the opportunity for networking and collaboration empowering industry stakeholders to track and document personal competencies as required by regulatory agencies by using local and Global BlueCloud GDPRDirectories®.
Pending changes to global privacy regulations is probably one of the biggest challenges facing the healthcare and clinical research industry today. Global, regulatory action in this area is gaining momentum as the need to own, control and share personal and professional data becomes more important.
BlueCloud members include hospitals, research sites, biopharmaceutical companies, device companies, academic institutions, independent review boards, contract research organizations (CROs), NGOs and other global regulatory organizations. Healthcare professional members can also use the GDPRWallet to manage their ever-changing professional documents, set expiration alerts, add third-party verifications and collaborate with organizations within their business networks.
"We are excited about the seemingly boundless potential of BlueCloud GDPRWallets because of their unique ability to enable individuals and organizations to own and benefit from their information through a secure and regulated global infrastructure", said Al Pacino, president and co-founder of BlueCloud by HealthCarePoint.com "Additionally, this real-time digital tool will help the industry adapt to the rapidly changing global regulatory landscape by improving efficiency for healthcare administration and clinical operations with the ultimate goal of improving patient care – including centralized and de-centralized clinical research."
The BlueCloud GDPRWallet has the potential to transform healthcare information management and access by providing users with a single location for managing and sharing their credentials and other important information.
BlueCloud GDPRWallets can be conveniently accessed from a desktop or mobile device from virtually any location in the world that has internet access. For more information, please visit http://www.GDPRWallet.com
What our members are saying:
"BlueCloud pioneered the way forward with the GDPRWallet in support of the largest legislation in the EU with the main purpose to protect users and their data. Lawmakers wanted to implement better controls over companies' access to data and the right to store, share and track their users' data. The GDPRWallet has had a far-reaching compliance effects already, extending beyond the borders of the EU. In honor of the GDPRWallet, it is a monumental success for our society." Mimi Choon-Quinones, PhD, MBA, Chairman, Board of Trustees – Partners for Patients, NGO.
"As a leading investigator site network, we must keep up to date and in compliance with modern privacy and GDPR regulations that will affect our members. Empowering our sites with GDPRWallets and local GDPRDirectories to enable modern connectivity with our sponsors and CROs to speed up the screening and feasibility process for upcoming trials while minimizing risks associated with modern General Data Protection Regulations is a must in order to remain competitive in our space". Jason Roth, VP Business Development, Platinum Research Network.
"It's very important to empower our members with a global GDPRWallet, have our members own their professional information, maintain it and share their records in real time, including but not limited to NIHSS Pediatric and Madrid Direct certificates, with our departments, our university network, our sponsors,our CROs and other industry stakeholders". Blanca Fuentes Gimeno, MD, Jefe de Sección. Unidad de ictus, Profesora Asociada. Departamento de Medicina UAM, Servicio de Neurología y Centro de Ictus, Hospital Universitario La Paz.
"Digital GDPRWallets allow health care providers, sponsors, CROs, and sites to securely maintain and share their personal identifiable information (PII) in real time." Linda Coleman, Director of Human Research Protection program (HRPP), Yale University.
About BlueCloud®
BlueCloud's systems are available in more than 193 countries and used by more than 1.8+ million healthcare professionals from thousands of organizations including sponsors, CROs, research sites, hospitals, universities, and other healthcare and clinical research stakeholders. BlueCloud applications allow them to connect, organize, centralize and share verifiable information in real-time for managerial and compliance activities. Together, BlueClouds create a global network that is proven to save the industry millions of dollars by eliminating redundancies, expediting study start up and ensuring quality, transparency and compliance in healthcare. Our ultimate goal is to modernize the ecosystem through real-time, instant connectivity, creating a sustainable ecosystem that leaves no patient behind® regardless of religion, race, geography or socio-economic status. For more information, please visit http://www.healthcarepoint.com/